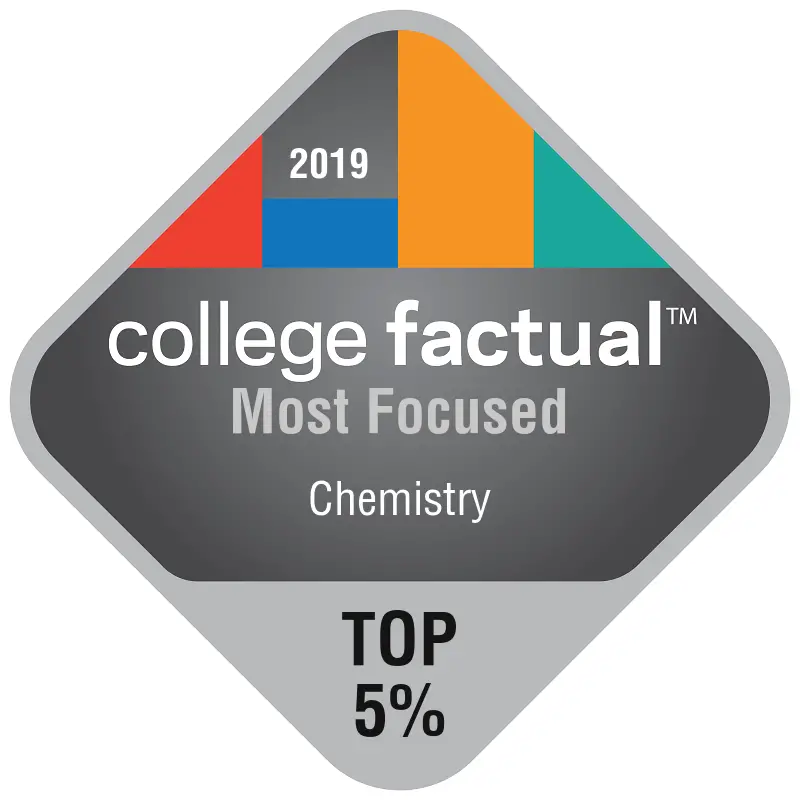 Bachelor of Science in Chemistry
Chemistry is ever-present in our lives, and it is often referred to as the "central science" because it unites the physical, life, and applied sciences. A Bachelors of Science in Chemistry provides you with a degree that is truly versatile and can take you anywhere you want to go. With a chemistry degree, you're almost 90% likely to be in either full-time employment or further study three years later.
Our program is modeled after the standards of excellence established by the American Chemical Society (ACS), offering students a broad-based and rigorous chemistry education that provides the intellectual, experimental, and communication skills necessary to become successful scientific professionals. Additionally, a chemistry degree gives you a huge range of skills that are in demand in wide variety of jobs, not just in science.
The small size of our program, coupled with our active research, affords the opportunity for undergraduate research to all our chemistry majors, with our faculty working hand-in hand with you. Your chemistry professors will know you by name, caring about your career progress.
Our graduates continue to graduate programs in chemistry; find employment as laboratory chemists, and attend medical school, dental school, pharmacy school, or veterinary school.
Program Highlights
Rigorous American Chemical Society-modeled curriculum
Undergraduate research with direct, one-on-one faculty mentorship
ACS Student chapter
Minor in Chemistry
Featured Professors
Career Opportunities
The graduates will be able to find work in the chemical/pharmaceutical sector or continue their education in graduate school or professional tracks such medical doctor, dentist, pharmacist, etc…
Curriculum (Course Sampling)
CHM 3120 Quantitative Analysis
CHM 3400 Basic Physical Chemistry
CHM 4610 Inorganic Chemistry
Career Landscape
Work in the chemical/pharmaceutical sector.
Continue your education in graduate school or professional tracks such as medicine, dentistry, or pharmacy.
Pursue careers in energy, electronics, education, biotechnology, pharmacology, environment, law, or natural products.
The full-time employment rate for ACS workforce chemists in 2015 was 90.7%, with median annual salary of $97,000.