At St. Thomas University, we are committed to the success of our students inside and outside of the classroom. Our College to Career series will feature and celebrate  STU Bobcats and their internship and first job experiences. Get to know STU Bobcat, Jordi Herrera, and about his first job experience with the Office of Philanthropy & Communications at STU!
Name: Jordi Herrera
Major: B.B.A. in Sports Administration. Currently enrolled in the M.S. in Sports Administration program.
Graduation Year: December 2019 for undergrad. My expected graduation for my master's is December 2020.
Where do your work and what is your title? I currently work at St. Thomas University as the Digital Media Coordinator in the Office of Philanthropy & Communications.
How did you find out about your job and secure it? For nearly a year I did work-study in the athletics department. I created engaging game and practice recap videos for the various sports teams at STU. As my graduation date inched closer, I started thinking about what I wanted to do once I completed my degree. At that point, I already had started my own business creating digital content for professional athletes, personal trainers, and private businesses, so I considered doing that full time once I graduated. However, earning my master's degree was a goal of mine, so I told myself I had to do whatever I needed to do to make that a reality. I started reaching out to other universities about graduate assistantships(GA). After several weeks, I began receiving GA offers from various athletics departments across the country. All of the GA offers in the world couldn't take me away from where my heart was; my heart was at St. Thomas University. I didn't want to leave and quite miraculously nearly a month before I was set to graduate, our Sports Information Director and work-study supervisor, Jon Leatherman, told me about a new position that had just opened up with the university. I reached out to Isabel Gamarra, who is now my boss, about the position and got invited to interview for the position. About three weeks after I interviewed, I was getting my haircut and decided to check my email. As I opened my email, I read an email titled, "Welcome to the team!", and immediately screamed in jubilation on the inside. I gladly accepted the job, and now here I am.
What does a day at work look like? Every day brings something different. However, some of the very general tasks that I do every day involve checking my email very frequently, monitoring all social platforms, and checking in with my team to make sure we are all on the same page.
What's your favorite part about your job? My favorite part of my job has to be a combination of the people I get to interact with on a daily basis and the freedom I have in creating content. Going into this job I was worried that I'd be micromanaged and have no creative freedom. However, I quickly learned that I have the best boss in the world that wholeheartedly trusts me to do my job. I have free rein to create whatever content I feel is best to share and I am grateful for that. Aside from that, everyone in the office is very tight-knit, which is something that I also like. We have frequent meetings that allow each one of us to know what is going on around the various departments of university, which is quite helpful and encourages collaboration. I also really love St. Thomas University!
What challenges have you faced at your first job and how have you overcome them?  It was challenging getting used to working a "9 to 5" with a new group of people. Having my own business, I had grown very accustomed to working alone and reporting to no one but myself. Being an entrepreneur meant that I was on my own schedule and that my ability to make money was solely dependent on how much I wanted to work outside of school. Working a 9-5 has helped me build character, it has taught me how to better work with others and has taught me the importance of showing up and being expected to carry out a task in a timely manner. I've simply overcome that challenge by telling myself that this is what I signed up for. You have to be mentally tough. This job has not been a bad marriage to say the very least. I love being able to come to the university I love and know so much about, be close to my family, meet new people, earn a salary, and work on my master's degree.
How does your job connect back to your coursework and extracurricular activities at STU? Coming into STU I played baseball. I did that until my sophomore year where I ultimately got cut from the team. Upon not making the roster, I told myself I had to do something to stay involved. All I knew was the world of sports. So, I took it upon myself to offer my creative services to the athletics department at STU. Up until that point, athletics hadn't had any engaging content specifically made for the department. My creative services allowed me to be around sports, my friends, and an opportunity to bolster the school's brand image which would in turn help with recruiting new students. From an academic perspective, the university afforded me many classes such as, Organizational Behavior, Intro to Psychology, Sports Marketing, Personal Branding, Intro to Marketing, and many more to best prepare me for the future and for the job I currently have. I took advantage of the resources available to me and made it work.
What advice do you have for Bobcats that are starting the job hunt? My advice is to exhaust all possibilities. I had it set up to where I could either work for myself, be a GA, or work full-time. You want to give yourself as many opportunities as you can to succeed in whatever it is that you want to do. Know that you do not have to take whatever job offer comes your way first; if it doesn't feel right, don't do it. I had a job offer from the Miami Marlins to basically do the same thing I do for STU, but it just didn't feel right. Yes, the Miami Marlins organization would've afforded me a great opportunity to work in professional sports and to be around the game I love. However, I am fully confident in my abilities and in my network to help me reach my ultimate goal of being a front office executive. My family and close friends thought I was making a mistake by not taking that job, but I knew deep down in my heart that it wasn't for me. I had a feeling that it was going to be a dreadful situation for me; I didn't want to feel boxed in. I almost took the Marlin's job to please other people, but that would've been a huge mistake. In the end, be selfish and know when to choose your own happiness over the happiness of others. No one can make you happy but yourself. No one lives your life for you; you do! I am glad that it all worked out for me here at St. Thomas University. It is a dream come true to be able to give back to the university that has given me so much.
Describe your job in a GIF?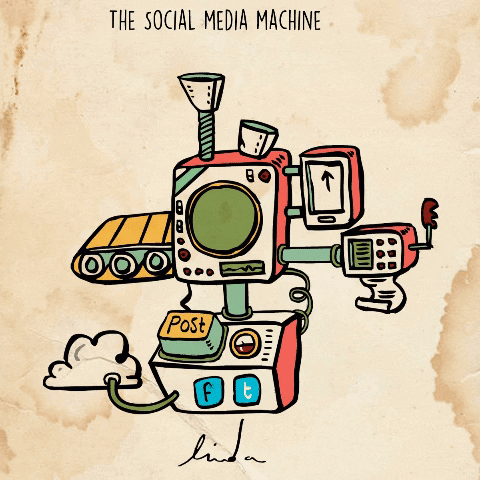 Learn more about how Career Services can help you find the right internship or job for you!
Interested in sharing your internship or first job experience with STU News? Reach out to Michelle Tulande at mtulande@stu.edu.