At St. Thomas University, we are committed to our students' success inside and outside of the classroom. Our Law School to Career series will feature and celebrate STU Law alumni and job experiences. Get to know STU Law alumna, Denise Calle, and her job experience as an Associate Attorney at Diaz Trade Law.
1. Name: My name is Denise Calle.
2. J.D./ LL.M/ Concentration/ Certificates: J.D.
3. Graduation Year: I graduated in 2016.
4. Where do your work, and what is your title?
I am an Associate Attorney at Diaz Trade Law practicing Customs and International Trade Law.
5. Did you always know you would be pursuing this line of work?
Not necessarily, while being a lawyer was my "dream" job growing up, Customs and International Trade Law was completely foreign. From elementary school through high school, my career path has been related to law. In elementary, I would dress up as a lawyer on career day. I was part of a legal magnet program at Coral Reef Senior High, where I participated in Moot Court competitions. After that, in undergrad, my passion for practicing law developed while majoring in Women's Studies. As a 1L, I quickly realized I wanted to practice a niche area of law related to commercial transactions (I manifested this daily by writing it in my notes and talking to classmates/professors/friends/family). My biggest fear was being stuck in a practice area that did not stimulate my interest and keep me engaged. I began to grow interested in international law through classes. It wasn't until I interned at the United Nations (UN) that my global perspective grew. Luckily, while at the UN, I was exposed to various international law topics, including trade. I also interned with a classmate from STU Law, who recommended me for a law clerk position with my current firm – the timing and the placement were perfect. At that time, I had never been exposed to my practice area – Customs and International Trade Law. It's different, challenging, and rewarding. The President of the firm, Jennifer Diaz, pushed me from day one and has since been my mentor who helps me keep my career on track and provides numerous advancement opportunities.
6. What does a day at work look like?
• My day varies and is rarely redundant. Since COVID-19, our office works remotely.
• I assist foreign and domestic businesses, manufacturers, distributors, importers, and exporters with regulatory compliance, trade, and enforcement matters. This includes confirming clients are compliant with laws and regulations enforced by US federal government agencies and advocating for clients in administrative proceedings before US Customs and Border Protection (CBP) and US Food and Drug Administration (FDA).
• My job consists of researching government regulations, drafting legal petitions, communicating with federal agency representatives, assisting in client meetings as well as writing articles for our newsletter and Customs and International Trade Law blog and other publications (like Bloomberg Law). I've assisted clients with federal compliance in dealing with various products, including foods, over-the-counter drugs, medical devices, diamonds, tires, shutters, cars, countertops, railings, textiles, travel kits, etc..
• With that being said, a large part of my day is spent either writing (which I enjoy) or on calls with our team, clients, or government employees. I typically work 8-9 hours a day, but, in client emergencies, I've worked well over 10 hours.
• COVID-19 has increased our workload related to assistance in importing face masks, hand sanitizers, alcohol wipes, personal protective wear (PPE), and FDA enforcement actions for adulterated or misbranded hand sanitizers. Jennifer Diaz and I wrote an article for Bloomberg titles PPE IMPORTS DURING COVID-19.
• Regardless of the heavy workload, my days are balanced. Working at Diaz Trade Law (a fast-paced, team-driven boutique law firm) has been a blessing as a new lawyer and mother. I am encouraged to have quality time with my two-year-old. I have been offered opportunities such as co-authoring three (3) chapters in the Florida Bar's International Law Deskbook 2020 and contributing co-author to four Bloomberg Law articles.
7. What's your favorite part about your job?
There are three favorites: 1) my firm's work culture is top of my list – from having an office pet (checkout @Lux_the_law_dog on Instagram) to being challenging, flexible, transparent, respectful, competitive, and fun; 2) Representing global clients of every size, from individuals and small businesses to Fortune 500 companies, and 3) Finding solutions to and understanding complex issues.
8. What challenges have you faced, and how have you overcome them?
• Taking constructive criticism is a challenge I'm working on overcoming by listening more and speaking less.
• I'm learning how to be excellent and not be a perfectionist.
• Becoming a working mom in my second year of practice. I overcame it through communication, flexibility, and a support team.

9. How does your job connect back to your coursework and extracurricular activities at STU?
During law school, I focused on international law classes and practical experience. My 3L year included the Fall semester in New York City at the UN and full-time clerkship at Diaz Trade Law in the Spring semester. I was a member of the International Moot Court, Trial Team, and the Intercultural Human Rights Law Review. All required research and writing, which now comprises 70% of my workday.
10. What advice do you have for Bobcats that are interested in following in your career footsteps?
1. Find your passion and never settle.
2. Find a mentor and engage with them.
3. Connect with your classmates – BUILD your network.
4. Intern and work hard.
11. Describe your job in a GIF?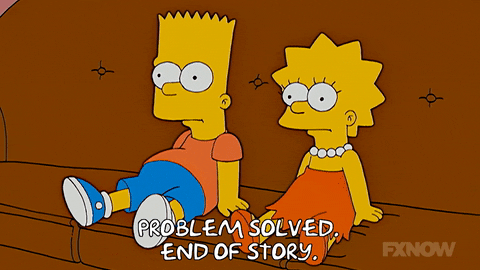 12. Anything you would like to add that we did not cover?
I was recently elected as the Secretary of the Board of the Women's Fund Miami-Dade. An organization established over 25 years ago, the Women's Fund Miami-Dade has worked to improve women's and girls' lives by providing almost $4 million of funding to support nearly 500 programs serving over 75,000 women and girls throughout Miami-Dade County. Moving forward, we will focus on creating change for women and girls through action, advocacy, and investing in key collaborative initiatives that generate sustainable impact in four pillars of economic mobility, leadership, health & well-being, and freedom from violence. To get involved, subscribe: https://womensfundmiami.org/join-us/.
Learn more about how STU Law's Career Development can help you find the right internship or job for you! If you're interested in sharing your internship or job experience with STU News? Reach out to Yamile Rodriguez at yamilerodriguez@stu.edu.