At St. Thomas University, we are committed to our students' success inside and outside of the classroom. Our Law School to Career series will feature and celebrate STU Law alumni and job experiences. Get to know STU Law alumnus, Sammy Spina, and his job experience as Vice President and Equity Partner at Neostar Football.
1. Name: Sammy Spina
2. J.D./ LL.M/ Concentration/ Certificates: JD & MBA in Sports Administration
3. Graduation Year: 2017
4. Where do your work and what is your title? Neostar Football, I am now the Vice President and equity partner in the company. I'm an NFLPA Certified Contract Advisor (Sports Agent).
5. Did you always know you would be pursuing this line of work? No. I originally wanted to become a criminal defense attorney to help individuals combat the corrupt justice system. I saw many friends become wrongfully imprisoned, and they didn't have the means nor resources available to fight back. God guided me into this path during my first semester of law school.
6. What does a day at work look like? Every day is different. My job is roughly 90% travel, 10% in the office, so I spend a lot of time in airports, planes, and hotels. I mainly help my clients through different aspects of their football and professional careers, whether in negotiating a contract with an NFL team or securing a marketing or endorsement opportunity.
7. What's your favorite part about your job? My favorite part about my job is helping individuals achieve their life-long dream of becoming a professional athlete. Furthermore, I get to help them become professional MEN, which is something that I'm incredibly passionate about.
8. What challenges have you faced and how have you overcome them? I face a new challenge every single day. My most memorable challenge was securing my entry position with Neostar. I asked for a job and offered to work for free; however, the company's founder shot me down. Thus, I moved all of my stuff into his office the next morning (before he arrived) and started answering the phone. When he walked in, I said, "I have ESPN on line 1." I have been with the company ever since.
9. How does your job connect back to your coursework and extracurricular activities at STU? My coursework taught me how to adjust my thought process, critical thinking skills, and being able to multitask. There are days where I am juggling work for several clients at a time; thus, my course load (especially doing my joint degree while working full time) helped me adjust to the fast-paced environment.
10. What advice do you have for Bobcats that are interested in following in your career footsteps? My advice = (1) never give up, and (2) find your why. (1) If you want something, then work for it! Be prepared to hear the word "no" a lot, but don't let that discourage you. For me, I never wanted to live a life of regrets, and I have fought my entire life; thus, I pour every ounce of energy that I have into what I do. (2) Find your why. What do you go to sleep and dream about? What do you wake up and pray about? You have to find your driving force! For me, I have a passion for helping others. Also, I am a former athlete. Therefore, this industry is a natural fit for me.
11. Describe your job in a GIF?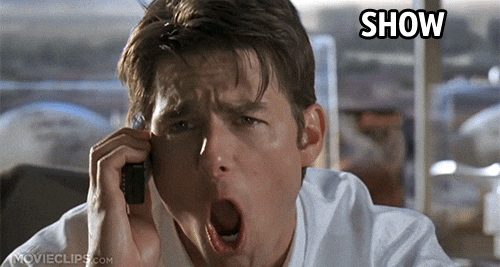 12. Anything you would like to add, that we did not cover? Instagram and Twitter: @sammyjspina
Learn more about how STU Law's Career Development can help you find the right internship or job for you! If you're interested in sharing your internship or job experience with STU News? Reach out to Yamile Rodriguez at yamilerodriguez@stu.edu.