At St. Thomas University, we are committed to our students' success inside and outside of the classroom. Our Law School to Career series will feature and celebrate STU Law alumni and job experiences. Get to know STU Law alumnus, Daniel Diaz Leyva, and his job experience as Managing Partner at Diaz Leyva & Gil PLLC. 
1. Name – Daniel Diaz Leyva, Esq.
2. J.D./ LL.M/ Concentration/ Certificates – JD
3. Graduation Year – 2004
4. Where do your work and what is your title? Managing Partner, Diaz Leyva & Gil PLLC
5. Did you always know you would be pursuing this line of work? No, I studied finance at the University of Miami School of Business and expected to pursue a career in investment banking. The dot com bubble burst around the time of my graduation which caused me to re-evaluate everything. All of my mentors at the time had suggested pursuing a law degree to compliment my finance degree before choosing my career path. Shortly after beginning law school, the events of September 11th bolstered my decision to become a lawyer and redirected the course of my life.
6. What does a day at work look like? Constantly executing and bringing solutions to complex issues. Whether it is structuring a transaction, reviewing and revising contracts or loan documents or closing transactions, our goal every day is to ensure our client's best interests are protected and they are achieving their goals.
7. What's your favorite part about your job? Helping my client's succeed and achieve their goals. Playing an important role in that success is incredibly rewarding.
8. What challenges have you faced and how have you overcome them? For those that know me, I have always been and continue to be committed to serve others. In furtherance of that, I ran for public office in 2014 as the Republican candidate for the Florida House of Representatives. I enjoyed extensive support from friends and I poured my heart and soul into the campaign. However, I sacrificed a lot of time away from my family during the effort. I sadly lost by a few hundred votes to the incumbent I challenged. Although the experience was incredibly rewarding, it was a painful and stinging defeat. It was God's way of redirecting my path and commit myself entirely to my family. My young son had been experiencing some medical issues that my loss allowed me to be present to support him in addressing. It helped me refocus my time towards my practice and eventually build a successful business. As I reflect today 6 years later, that loss was the best thing that happened to me. Those years steeled me to adversity and discomfort and helped me re-set my priorities. I am happier today than I have ever been.
9. How does your job connect back to your coursework and extracurricular activities at STU? Law school taught us how to think more critically, manage enormous amounts of detailed information in a very limited amount of time and articulate your thoughts effectively. I employ these skills and resources every day in my life to not only service my clients but also build my business. It also required us to learn to work well with others from very different backgrounds to collaborate together on projects and pass exams. Law school can be a very lonely and daunting place without peers and colleagues to help you through. This empathy helps me my manage my relationship with my team and my clients and encourages me to always help others.
10. What advice do you have for Bobcats that are interested in following in your career footsteps? Devote yourself entirely to your studies your first year of law school to learn to manage your time efficiently and effectively. Managing your time is only going to get more challenging in private practice and as your life evolves to include family. Focus on developing your skill sets and your talents while you're in school and not only learning the content of your studies. You will largely use those skill sets and talents and not the content of your studies during your career. Identify your personal and professional goals as early as possible in life to develop an evolving blueprint on how to achieve them. Focus your efforts on those goals and work diligently to execute on them. You will fail along the way. Do not get discouraged. It is how you react and respond to those losses that will define your career. Build a network of mentors. They will be your biggest advocates and help advance you along the way.
11. Describe your job in a GIF?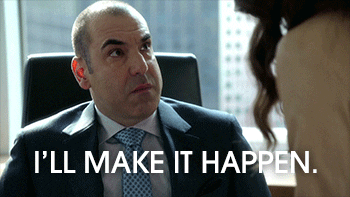 12. Anything you would like to add, that we did not cover?
Find your priorities in life. Mine is my family and my close friends who I consider family. Those friends helped me identify opportunities to be useful and helpful to others both personally and professionally. Life is short. Enjoy the journey especially with those who enhance it.
Learn more about how STU Law's Career Development can help you find the right internship or job for you! If you're interested in sharing your internship or job experience with STU News? Reach out to Yamile Rodriguez at yamilerodriguez@stu.edu.