At St. Thomas University, we are committed to our students' success inside and outside of the classroom. Our Law School to Career series will feature and celebrate STU Law alumni and job experiences. Get to know STU Law alumna, Sheereen E. Middleton, and her job experience as Principal Attorney at Middleton Legal, LLC.
1. Name: Sheereen E. Middleton
2. J.D./ LL.M/ Concentration/ Certificates: JD
3. Graduation Year: 2010
4. Where do your work and what is your title? Middleton Legal, LLC // Principal Attorney
5. Did you always know you would be pursuing this line of work?
Yes, I always envisioned myself as an entrepreneurial attorney with a consistent commitment to pro bono work and community outreach.
6. What does a day at work look like?
I typically work from 10 am to 6 pm, with scheduled breaks every three hours. Most of what I do is cloud-based and virtual, so I am able to work from home. I have a wonderful team that I put together, and we communicate and work together well. As a small business owner, most of my day consists of client consultations, meetings with existing clients, and delegating and overseeing my team. I also spend a lot of time working directly with my pro bono clients, referred to me by existing clients or assigned to me through a volunteer lawyer organization.
7. What's your favorite part about your job?
Operating virtually and being able to serve so many people in need. It's intrinsically satisfying and brings me so much joy!
8. What challenges have you faced, and how have you overcome them?
I've come to learn that you are not growing or excelling unless you face some type of challenge. Facing a challenge demands that you level up. These are not defining moments, but rather, learning opportunities and ways to gain experience. In 2018, I was three months postpartum when I got laid off from my law firm job in Florida. After working a series of low-paying gigs, I relocated to Maryland and worked as a contract lawyer for other law firms. I was working hard, driving all over the place, and barely making any money after the cost of child care and commuting. My sisters saw something in me that I knew I had all along but was scared to try. I set out to start bankruptcy practice full time, and it was the best decision I've ever made. I've been able to secure my career, provide for others, and make a difference in people's lives. It's been very rewarding.
9. How does your job connect back to your coursework and extracurricular activities at STU?
While attending STU, I participated in the bankruptcy clinic and provided pro bono service. My first experience with providing pro bono legal services was at STU. Participating in the Bankruptcy Clinic allowed me to see the immediate impact that we, as attorneys, can have on consumers. I fell in love with providing pro bono services and have an ethical duty as an attorney to do so. Since 2013, I've dedicated 20% of my bankruptcy practice to servicing pro-bono clients. Special thank you to Prof. Abdo-Gomez for being an amazing source of inspiration.
10. What advice do you have for Bobcats that are interested in following in your career footsteps?
Go for it! It's extremely rewarding and makes an immediate impact on the people you serve. I'd be happy to chat with you! Email me at middletonlegal@gmail.com
11. Describe your job in a GIF?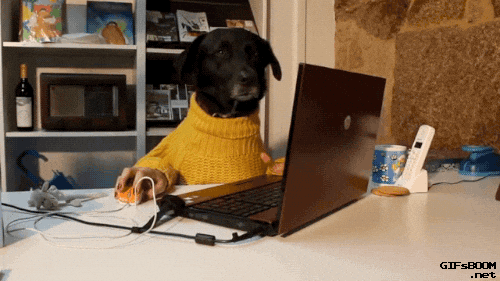 Leadership Roles & Awards:
2020 MVLS COVID19 Response Award Recipient — MVLS Created a new award category for me 😀
2020 National Black Lawyers Top 40 Under 40
2020 Avvo Client Choice Award
2019 Avvo Client Choice Award
Member of Lawyers for Literacy
About Me/Bio:

Sheereen E. Middleton, Esq. is from Silver Spring, MD, and moved to Florida to attend the University of Miami in Coral Gables in 2002. While attending UM, Sheereen was a member of the cheerleading squad and cheered for the football team, volleyball team, and basketball team. After graduating from UM, she attended law school at St. Thomas University in Miami Gardens. Sheereen is a licensed Attorney and Realtor® in both Maryland and Florida. Today, she practices Bankruptcy, Real Estate, and Estate Planning. When Sheereen is not in the office, she enjoys spending time at the beach, and being amongst friends and family. She volunteers in the community and has a passion for helping others. Her professional approach and knowledge are key in resolving clients' issues.
Learn more about how STU Law's Career Development can help you find the right internship or job for you! If you're interested in sharing your internship or job experience with STU News? Reach out to Yamile Rodriguez at yamilerodriguez@stu.edu.