At St. Thomas University, we are committed to the success of our students inside and outside of the classroom. Our Law School to Career series will feature and celebrate STU Bobcats and their internship and first job experiences. Get to know STU Bobcat, Alejandra M. Iglesia, and about her job experience as an Associate Attorney at Bast Amron, LLP.
1. Name: Alejandra M. Iglesia
2. J.D./ LL.M/ Concentration/ Certificates: J.D.
3. Graduation Year: 2018
4. Where do your work and what is your title? I'm an associate attorney at Bast Amron, LLP.
5. How did you find out about your job and secure it: I was fortunate enough to have a recruiter reach out to me via LinkedIn about the opportunity. I researched the firm quite a bit and I was really impressed by their reputation, their mission, and the individual members of the firm. The firm asked me to come in for an interview and I met with all of the associates at the firm, as well as the three partners. The interview lasted about 3 and a half hours and within a week I had an offer! I had also submitted a couple of writing samples and an updated resumé, for their consideration.
6. What does a day at work look like? It varies- I tend to start the day by reviewing my e-mails and determining if there's anything pressing that must be dealt with right away. Additionally, my daily work flow is predominantly driven by my deadlines, so if I have any work that needs to be done by a set date, I will prioritize that, as well. Otherwise, my days consist of drafting legal documents, like demand letters, motions, etc, document review to prepare claims, team meetings to discuss case strategy, and telephone calls with clients to discuss their cases. At times, I also have to attend hearings on behalf of my clients to argue our position. I'm also involved with and hold leadership positions in other organizations like BNI and the Coral Gables Chamber of Commerce, which require my time and attention. Overall, I always use the same guiding principals to structure my work day, but each day looks different, which I love!
7. What's your favorite part about your job? There are 2 things I enjoy the most. First and foremost, I find a lot of purpose and gratification in being able to help my clients resolve whatever problem they're facing and ease their worries and anxieties. I practice commercial litigation so by the time a client calls me, they're usually getting sued or need to sue someone, which can be incredibly stressful. I'm an empathetic person by nature and, in my opinion, lawyers are meant to serve as trusted advisors. Most of the time, clients come to us with an issue that is deeply personal or emotional for them and I enjoy being the person they trust to help them close that chapter in a way they are satisfied with. Second, I love that no two cases are the same and each case requires a different strategy for success. It keeps things interesting! The practice of law has a bad reputation for being boring, monotonous, or black and white, but the reality is that practicing law is creative and each case has different needs, so I like the variety.
8. What challenges have you faced at your first job experiences and how have you overcome them? There's so many challenges a young lawyer faces at their first job out of school, but I would say one of the biggest challenges all young lawyers can relate to is the feeling that you don't know what you're doing and being intimidated by more seasoned attorneys who have been practicing for a long time. My biggest piece of advice to young lawyers who may be experiencing that is to trust yourself and have confidence. You may not have 20 years of experience like opposing counsel, but you passed the Bar just like they did and you can do it! I learned to overcome this fear in large part by being prepared, knowing the facts, and having confidence in my arguments because of my preparation. Don't let anyone convince you that your age or inexperience means that you're wrong and always give everything you do your absolute best. You will improve and you will certainly succeed.
9. How does your job connect back to your coursework and extracurricular activities at STU? I mostly practice commercial litigation, so I do think back to a lot of the fundamentals I learned in classes like contracts, civil procedure, secured transactions, and business associations. I am also still really close friends with some of my classmates from STU and we are constantly reaching out to one another for tips, tricks, advice, and general support. This has been a really valuable resource, as well.
10. What advice do you have for Bobcats that are starting the job hunt? The first piece of advice is to be humble! It's important to be confident, but it's almost more important to be humble. There's a difference. Second, it's small and obvious, but make sure your resumé is polished and accurate. Have someone you trust professionally to give you their edits and opinions. In the past, I've been the one reviewing job applications for employment at a law firm and, if the application itself isn't well put together, it won't even be passed on to HR or the partners for consideration. Also, when I interviewed for my current position, I was asked questions about almost every line in my resumé. Make sure that whatever you write is a true reflection of your actual experience because it will be evident if it is not. You will lose credibility and opportunities this way.
11. Describe your job in a GIF?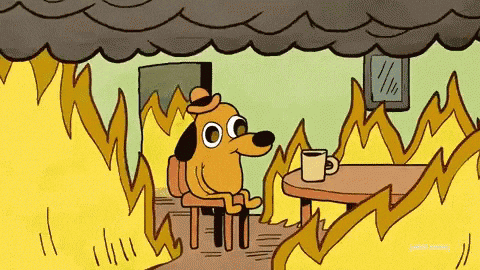 Learn more about how Career Development can help you find the right internship or job for you!
If you're interested in sharing your internship or job experience with STU News? Reach out to Yamile Rodriguez at yamilerodriguez@stu.edu.