At St. Thomas University, we are committed to the success of our students inside and outside of the classroom. Our College to Career series will feature and celebrate  STU Bobcats and their internship and first job experiences. Get to know STU Bobcat, Carly Durr, and about her first job experience in her dream state of Colorado!
Name: Carly Durr
Major: B.A in Marketing
Graduation Year: 2017
Where do your work and what is your title? I work at The Thompson Group as a Commercial Insurance Producer.
How did you find out about your job and secure it? After college I had no clue what I wanted to pursue as a professional. I applied for marketing jobs due to my degree, and sales jobs because of the opportunities behind controlling your own income. I posted my resume on various job sites such as LinkedIn, Career Builder, Monster, Zip Recruiter, etc. A recruiter reached out to me regarding a position at a large national commercial insurance broker. Being that my mom is in the industry, I thought "why not try it?". I went to 2 different interviews and secured a spot as a commercial producer in training. I was able to go through multiple training classes, and eventually fell in love with the insurance industry. I knew that Corporate America was not where I belonged long-term, but I was very thankful for the opportunity. Luckily for me, my mom is the co-owner of The Thompson Group. The Thompson Group is an independent insurance agency located in Indiana and Colorado. Our corporate vehicle is a 1970 VW bus wrapped in tie-dye. We like to make insurance as fun as possible. 😊 Fortunately, I was able to join the TTG sales team in October 2019. Not only was I able to secure a job doing what I love, but this opportunity allowed me to move out to my dream state of Colorado.
What does a day at work look like? My job is to bring in new business opportunities. Every day at work is a little different but it mainly consists of prospecting. Prospecting looks like meeting with strangers, cold calling, and sending out marketing campaigns. Due to COVID-19, I'm not able to meet with people in person, but through our technology we're still able to meet with people virtually. Other than speaking with strangers, as a team we design risk management programs for businesses all around the United States. We focus on small to medium size business in all types of industries.
What's your favorite part about your job? My favorite part of my job is meeting new people and learning their story on how they got to where they are today. Everyone's journey is different and I find enjoyment in helping people continue their journey in being successful.
What challenges have you faced at your first job and how have you overcome them? I make cold calls and send marketing emails to strangers. I also go to networking events on a regular basis to meet new people. Being in sales, I hear "no" more often than I do "yes." My biggest challenge was overcoming the fear of being rejected. Being rejected multiple times a day puts a damper on your motivation. Continuing to find motivation to push forward after receiving multiple "no's" a day, is another challenge I face. Being rejected is tough but learning to overcome rejection can make you unstoppable.
How does your job connect back to your coursework and extracurricular activities at STU? My job connects back to my coursework at STU because my major was in marketing. Through my marketing program, I learned about different ways to reach out to the community and promote a business in an effective manner. Today, I use this knowledge in my marketing campaigns. Being a volleyball player at STU, I connect the concept of teamwork, perseverance and maintaining a positive attitude to my career. My job connects back to teamwork because each employee in the company specializes in a different part of the process when bringing on a new client and maintaining our clients. I recognize that without each teammate's knowledge and skills, our company would not be successful. I also connect the concept of perseverance and maintaining a positive attitude. Even when we lost, we always had a positive outlook on the end goal and season. We truly gave it our all in each game we played, even when we were the underdog. When we lost a game, we would focus on looking forward to beating the next team. We were successful because our team goals were always at the forefront of our minds, and we didn't dwell on little losses here and there. In conclusion, it's important to use your goals as motivation.
What advice do you have for Bobcats that are starting the job hunt? My advice for all the Bobcats that are starting the job hunt is to just stay patient and optimistic. A great opportunity will come, but don't be afraid to try something out of your comfort zone. You won't know that a job isn't for you until you go to that interview. In most cases, your first job out of college isn't your last so just stay open minded and always strive to be the best you can in anything you do.
Describe your job in a GIF?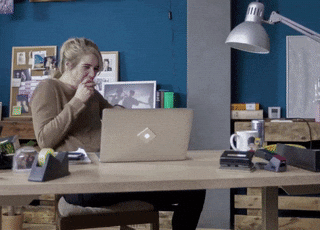 Learn more about how Career Services can help you find the right internship or job for you!
Interested in sharing your internship or first job experience with STU News? Reach out to Michelle Tulande at mtulande@stu.edu.