At St. Thomas University, we are committed to the success of our students inside and outside of the classroom. Our College to Career series will feature and celebrate  STU Bobcats and their internship and first job experiences. Get to know STU Bobcat, Maria Vega, and about her first job experience with the St. Thomas University Institute for Ethical Leadership.
Name: Maria Vega
Major: B.A. in Business Management. Currently pursuing my Masters in Ethical Leadership.
Graduation Year: December 2019 for undergrad. My expected graduation for my master's is December 2020.
Where do your work and what is your title? I am a Graduate Assistant for the Institute for Ethical Leadership
How did you find out about your job and secure it? First, I truly believe there are no coincidences in life. I believe that God has a plan for us, and we must trust it. I currently play soccer at St. Thomas University. In November of 2018, I had surgery for my torn meniscus. I recovered but tore it again in March 2019. In July of 2019, I had surgery for the second time which made me red shirt for the season and granted me another year of eligibility. One day, Professor Jose Rocha approached me and asked me if I would like to participate in the International Leadership Association's 21st Annual Global Conference in the Undergraduate Case Competitions in Ottawa, Canada. I said yes and it ended up being the best decision I've made. Throughout the process I worked with the brilliant Dr. Anthony Andenoro who is the Executive Director for The Institute for Ethical Leadership. The team of Dr. Lisa Knowles, Dr. Jose Rocha, Dr. Jeremy Moreland & Dr. Anthony Andenoro helped my team mold our final product for the competition. My team and I addressed the cognitive, emotional, and physical wellness of student-athletes through a three-phase leadership development initiative with the NAIA in which we placed 3rd . Afterward,  Dr. Andenoro offered me a position as a Graduate Assistant for The Institute as well as inviting me to pursue my Masters in Ethical Leadership. My job and my academics lined up; it was perfect!
What does a day at work look like? The Institute for Ethical Leadership at St. Thomas University is brand new. The Institute opened in Spring 2020 (which is crazy because it opened right when I graduated, no coincidences!). Since it is brand new, my job every day involves creating an Institute that will create the best experience for our students. My duties vary from curriculum development, recruiting students, managing marketing materials, to brainstorming research projects to get involved in! It's a full 5-course meal which is extremely exciting!
What's your favorite part about your job? My favorite part about my job is that I leave confused every day. Reread that, yes, confused every day. It's like stepping into an oven of knowledge and trying to make sense of it. Every single day I am pushed out of my comfort zone to think differently and learn new perspectives. I have incredible conversations with great leaders who truly care about helping students. Their patience, their passion and their drive to want to make students better leaders makes me want to be the best version of myself.
What challenges have you faced at your first job and how have you overcome them? I wouldn't call it a challenge but more of a perspective shift. I was used to challenging my body on the soccer field or in the weight room but never really my mind. Dr. Andenoro fed me many books and content to digest but I honestly just ran with it. I treated it as I would if I were on the field and it truly started my quest for knowledge. It made me a much more curious learner who wants to swallow the world and learn about the art of leadership. Leadership is about human relationships and I am very passionate about this topic. I've been a Graduate Assistant for about 4 months, and I can honestly say that I have matured and learned that it is not a one size fits all model. I've learned that in order to be a better leader, I must listen to understand, not listen to reply.
How does your job connect back to your coursework and extracurricular activities at STU? My job has been nothing but a blessing because it has truly made me a better leader. I am the President of the Student Athlete Advisory Committee and the captain of my soccer team. The concept of "It's not a one size fits all" is how I choose to lead daily. I believe that a true leader is a person who chooses to lead by action not by words. I try to listen more and understand what my team needs from me. I hold myself to a high standard of a leader and hold everyone around me accountable. My job has taught me that leadership is not about me, it's bigger than me.
What advice do you have for Bobcats that are starting the job hunt? My advice to future bobcats is to be curious and not be afraid of failure. Be relentless in your pursuit of what fulfills you. Don't just go with the flow, don't just do what is easy, push yourself and you will be amazed at the heights that you can reach. I say be curious because there are so many opportunities in this world and you never know if it's for you if you don't pop your head in the door and see what's behind it. Don't fear adversity, life is about perspective and how you respond to situations. Choose to find the positive in every situation. Choose to find a way to make yourself better.
Describe your job in a GIF?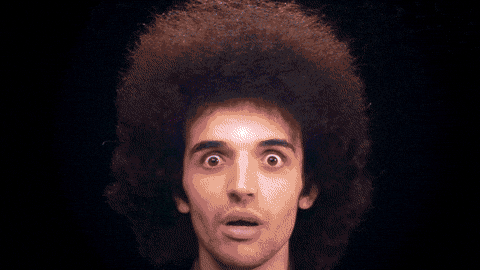 Learn more about how Career Services can help you find the right internship or job for you!
If you're interested in sharing your internship or first job experience with STU News? Reach out to Michelle Tulande at mtulande@stu.edu.