At St. Thomas University, we are committed to the success of our students inside and outside of the classroom. Our College to Career series will feature and celebrate  STU Bobcats and their internship and first job experiences. Get to know STU Bobcat, George Tzelalis, and about his first job experience as a Business Development Manager!
Name: George Tzelalis
Major: Bachelor of Business Administration with a specialization in Economics.
Graduation Year: 2019
Where do your work and what is your title? I am the Business Development Manager at Tzelalis Group located in Greece.
How did you find out about your job and secure it? Tzelalis Group is my fathers' company. Our company imports and/or produces orthopedic, athletic recovery and performance training products. I've seen my father build this company my entire life so when I came into the company I knew I wanted to be part of rebranding the e-commerce shop. I knew I'd be able to accurately tell my father's story through his company.
What does a day at work look like? My days at the office differ on a daily basis. I started working at our company about a year ago and was assigned the project of redesigning and rebranding our e-shop. Therefore, most of my days consist of me maintaining and improving our company e-shop. Certain days I have to introduce new products on our e-shop platform while other days I have to conduct market research of possible competitors to have a better grasp on their different marketing and sales tactics. Other days I review how our partners sell our products and look for ways to strengthen our business relationships. When we import or produce a new product line, I personally meet with our partners and clients to provide in-depth training. By doing this, we're able to ensure that our partners and clients can successfully promote and sell our items. No presentation is the same since different products are presented to different distribution channels we work with.
What's your favorite part about your job? My favorite part of my job is working alongside my father and finding new ways to build on what he has accomplished.
What challenges have you faced at your first job and how have you overcome them? The economy has been a major challenge for us and all business owners in Greece. You tend to risk less when you know how weak the economy is and therefore opportunity for expansion tends to decrease. Our team continues to find ways to adapt.
How does your job connect back to your coursework and extracurricular activities at STU? Being part of the Economics Club at St. Thomas was something that really helped me. I find myself looking back on the discussions we had and time spent analyzing economies around the world whenever a new business opportunity presents itself throughout Europe.  My Management Information Systems class with Professor Rocha and my Money and Banking class with Professor Gupta were the most helpful courses I took at STU. Those courses gave me the hands-on experience I needed. My class assignments and projects gave me real-world experience that I apply to my current job today.
What advice do you have for Bobcats that are starting the job hunt? My advice for Bobcats who are starting to look for jobs, is to find something that you are passionate about and to make sure you're involved in different experiences throughout your college career. I was able to work on campus as an office assistant at the Student Success Center, which was the first time I got to experience a work environment. That gave me the opportunity to see all the ins and outs of office culture. I was also able to secure an internship in Greece during one of my summer vacations. I was an assistant to the Director of Franchising of a very large group of companies. That internship allowed me to gain more hands-on experience in business-related work that prepared me for my role now. I am thankful to be able to wake up with a smile on my face every day because I am doing something that fulfills me. We should all strive to find that for ourselves!
Describe your job in a GIF?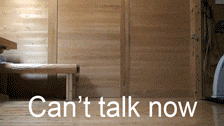 Learn more about how Career Services can help you find the right internship or job for you!
Interested in sharing your internship or first job experience with STU News? Reach out to Michelle Tulande at mtulande@stu.edu.