At St. Thomas University, we are committed to the success of our students inside and outside of the classroom. Our College to Career series will feature and celebrate  STU Bobcats and their internship and first job experiences. Get to know STU Bobcat, Brandon Valentin, and about his first job experience as a Mobile Support Specialist with the Miami Heat!
Name: Brandon Valentin
Major: I earned a Bachelor of Business Administration and a Master of Sports Administration.
Graduation Year: I completed my undergraduate program in 2016 and my graduate program in 2017.
Where do you work and what is your title? I currently work for the Miami Heat as a Mobile Support Specialist for the A-team in the department of Digital Strategy and Innovation. The A team is a group of mobile support specialists, also known as the app squad, at the American Airlines Arena. I am also a professional baseball player.
How did you find out about your job and secure it? I found out about the position at the Miami Heat through an online job placement agency. Through the agency, I applied to several sports teams across Florida. The next day, the Miami Heat called me for an interview with the A-team to work the 2017 season. The job required that I be tech savvy, understand the functions of iPhone and Androids, and have exceptional customer service skills. In my interview, I used my experiences as a collegiate and professional athlete to show the hiring team why I was the most suitable candidate.
What does a day at work look like? My job is to assist customers and clients with their mobile ticket or entry to Miami Heat games or concerts at the American Airlines Arena. I am a game day expert and go-to-resource for all things HEAT mobile application, digital ticketing, and mobile wallet related. I focus on making sure every guest takes advantage of Miami HEAT's mobile and digital offerings. I serve as an expert on the Miami HEAT app and vital member on game day signage setup.
What's your favorite part about your job? My favorite part about my job are the interactions I get to have with fans. Since I am always helping and assisting fans, I get to meet new people from all over the world. Every game or concert is a new exciting adventure. I also love that there are new challenges every day that have allowed me to become more adaptable. I truly love what I do.
What challenges have you faced at your first job and how have you overcome them? Starting my job was pretty intimidating because I was out of my comfort zone. I was a business major so I didn't feel extremely comfortable in a digital and IT dominated space like my department. With time, I learned new systems and have developed skills outside of my background that will help me in my future endeavors. I was thrown into the deep-end and that forced me to learn and adapt quickly to master the ins and outs of my position.
How does your job connect back to your coursework and extracurricular activities at STU? Through my coursework and time on the baseball team, obtained lifetime skills that I am using in the workforce. Teamwork and time management have been crucial in allowing me to succeed.  I've received Employee of the Month and created opportunities to meet top executives and make connections that will benefit my future with the Miami Heat. The values and work ethic instilled in me by my professors and coaches, especially Jorge Perez and JC Gutierrez, have directly impacted my success with the Heat. I  was also the Vice President of Membership for the American Marketing Association where we represented St.Thomas in several business conventions across the country.  I was also a member of the National Society of Leadership and Success.
What advice do you have for Bobcats that are starting the job hunt? My advice to Bobcats that are starting the job hunt would be to network and apply to as many jobs as you can in the industry you want to work in. Make sure that you put in the effort to reach out to people in the industry and ask them about qualifications and experience that will make you a better applicant. I also recommend doing research on the companies you're interested in. The job hunt is more difficult than people expect, so it's important to be persistent and work to overcome any obstacles that come your way. If you don't get the job you're looking for, don't be discouraged and use that as motivation to find new opportunities that may be a better choice for you. I applied to the Miami Marlins because I wanted to work in the baseball industry, but when the Heat called me first, I seized the opportunity and ran with it. It's the best decision I made because the winning culture and work environment of the Miami Heat is better than I could have ever imagined. My choice to pursue a job with the Heat, allows me to work for them during the basketball season and play professional baseball in the summer. It's a win-win!
Describe your job in a GIF?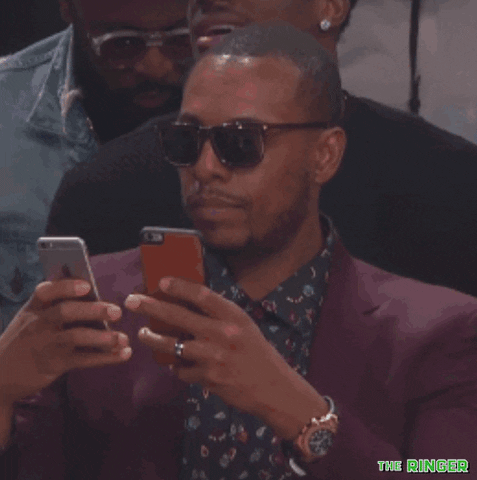 Learn more about how Career Services can help you find the right internship or job for you!
Interested in sharing your internship or first job experience with STU News? Reach out to Michelle Tulande at mtulande@stu.edu.